the masters of the mills
Wednesday, Sep 25, 2013

in the heart of the Italian textile industry, these intrepid individuals are blending tradition with innovation in the most masterful of ways.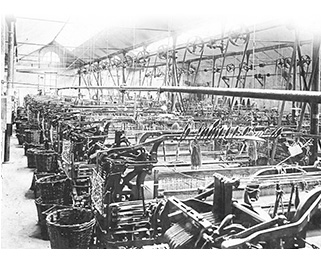 Biella has been the heart of wool production in Italy for nearly 800 years. Situated in the foothills of the Alps, about 80 kilometers northeast of Turin and 80 kilometers northwest of Milan, the area is rich in springs and lakes. This might not seem like a crucial detail when we're talking about fine fabrics and the mills that make them, but that fresh, clear water, well, it's the root of everything that Biella has become; because it was the natural abundance of that all-important resource — crucial for washing fleece and powering mills back in the day — that led to the town's growth into a center for textile production.
As far back as 1245, statues erected in the region paid homage to the woolworkers' and weavers' guilds, and for centuries, wool reigned supreme in Italy. In the 17th Century, though, things changed. Silk rose to the fore as the preferred cloth in the country, and in 1695 a silk manufacture was built in Biella. Of course, when that same building came to be used as a wool factory in 1835 after the introduction of mechanical looms, things came full circle; once again restoring the prominence of the region's most famous product.
After 800 years of artisan production and innovative craftsmanship, the mills of the Biella region are still on top of the mountain where we at Suitsupply love to visit every season, and, in addition to their great fabrics, enjoy their hospitality and breathtaking surroundings.