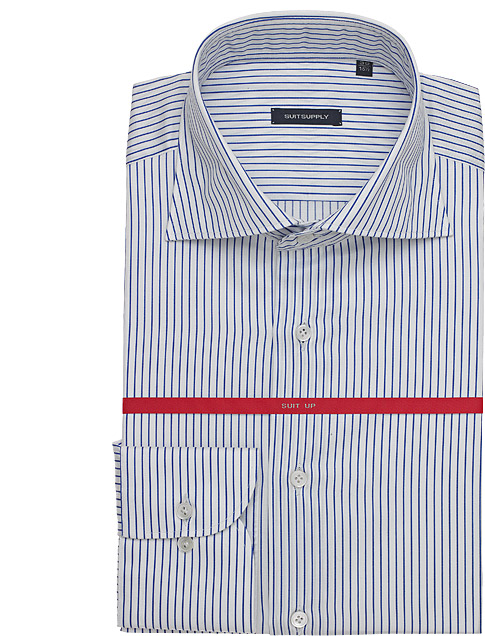 Be dapper in this fine Suit Up shirt. Holding a spread collar and single cuff this shirt is neat and classy as is the bright blue colour. Noticeable on this striped edition is the split yoke, showing the craftsmanship involved in the making of this shirt.

The Suit Up shirt is similar to our Slim Fit, though slightly wider around the chest. These shirts are produced of a superior quality of pure cotton, made from 100/2 to 140/2 yarns which guarantees a a soft and silky feel. The two-ply yarn (two yarns twisted together to become one yarn) utilized here, provides durability over a long time. For the trained eye, this shirt offers many luxurious features, such as its extra fine stitching: 45 per 2 inches (9 per cm), hand stitched AMF stitching and button holes, hand sewn pleated shoulders and removable collar stays (should be removed before dry cleaning or pressing). Other refined details include the hand stitched side seam gusset, the mother of pearl buttons and the split yoke, extra noticeable in the striped version of these shirts.

Hand sewn pleated shoulder
Removable collar stays
Split yoke
Hand stitched AMF stitching
Mother of Pearl buttons
Hand stitched buttonholes
Hand stitched side seam gusset

Suit Up from €99

Exceptional luxury
Refined fabrics from renowned Italian mills
Hand finished details and mother of pearl buttons

Care Tips

Our shirts should be washed at 30 to 40 degrees Celsius and please remember to take out the collar stays in case they are removable. Hang-dry your shirt and iron them inside-out whilst still moist as wrinkles will disappear more easily.
Free shipping for orders exceeding €100

1 to 2 business days delivery

anywhere in the world
Free returns